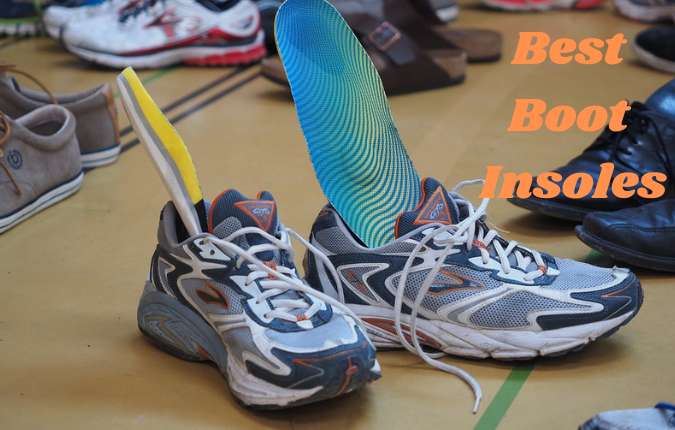 Are your boots causing pain in your feet? Do you fear wearing them daily, or count the minutes as long as you take them off? Okay, don't worry. The best boot insoles are available on the market to solve the issues.
It's not an over-spoken that some boots become notoriously uncomfortable, particularly if you wear them for long hours.
But we'll talk about some of the best boot insoles. Indeed, these insoles can aid in alleviating a variety of foot and leg problems apart from providing extra cushioning and support for your arches.
Continue scrolling to say goodbye to uncomfortable boots and welcome a more enjoyable work day.
Top 7 Best Insoles For Work Boots
| Product Name | Price |
| --- | --- |
| 1. Dr. Scholl's Heavy-Duty Support Insoles | Check Price |
| 2. Superfeet GREEN High Arch Orthotic Support Boot Insole | Check Price |
| 3. Timberland PRO Men's Anti-Fatigue Replacement Insole | Check Price |
| 4. Best Gel Insoles: Dr. Scholl's Work Boot Insoles | Check Price |
| 5. NAZAROO Orthotic Boot Insoles for Flat Feet | Check Price |
| 6. Samurai Boot Insoles for Plantar Fasciitis | Check Price |
| 7. Superfeet Copper Cushioning Memory Foam Boot Insole | Check Price |
1. Dr. Scholl's Heavy-Duty Support Insoles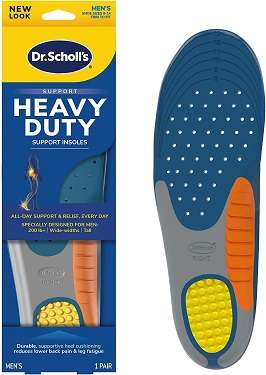 Dr. Scholl's insole absorbs shock and provides weight fantastically. Suitable for you if you travel on rocky or gravelly terrain for work or a hobby.
This heavy-duty insole has been introduced for users over 200 lbs. But their Shock Guard and Arch Guard technology turn these insoles into automatic-choice for uneven areas.
Like most insoles, Dr. Scholl's insoles contain a deep-heel cup. Moreover, the company has made not to huddle the toes. The blend of both properties lets you cling to the ground effectively compared to the over-cushioned insole.
These contribute to fixing back pain and leg fatigue. Plus, they are multi-functional and suitable to wear with sneakers and dress shoes, including work boots.
Features:
Durable and built-to-last.
Perfect for relieving lower back pain and leg fatigue.
Additional cushioning surrounding the heel.
Price in reach.
2. Superfeet GREEN High Arch Orthotic Support Boot Insoles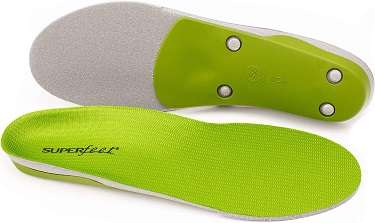 Superfeet GREEN Insoles are suitable enough to work as you need. The most desirable feature is adjustable to your feet by cutting. But you follow cutting instructions before use.
These orthotic insoles aid in stabilizing and relieving pressure on the feet and ankles. Also, they act with your body for maximum foot support.
These Cut-To-Fit Boot Insoles are known for reliable support and comfort for up to 500 miles or 12 months. Additionally, they contain a coating to manage the odors of your footwear.
You should consider purchasing them as Superfeet donates 1% of sales to charity with 1,000+ volunteer hours. Choosing these insoles for your work boots may feel like hugging your feet from the inside out.
Features:
Cuttable to be fitting.
Deep-heel cup.
Durable orthotic insoles.
Odor control.
3. Timberland PRO Men's Anti-Fatigue Replacement Insoles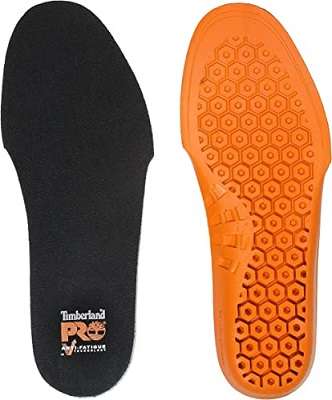 Like most boot types, slipping an insert over the factory insole is possible. But removing the factory insole first is better due to some work boot varieties.
Timberland Pros is the best approach to dealing with the latter. Many consider them the unsung heroes of the insole world, offering replaceability and comfort without recognition.
Timberland adds an unparalleled inverted cone foam feature to ensure the highest shock absorption with a particular top foam layer for wetness management.
Furthermore, you can enjoy a one-year "Unconditional Comfort" guarantee, free 3-day shipping, and free returns. Honestly, these insoles will contribute to making your life easier if you stand on hard concrete for your workdays.
Features:
Lovely to stay comfortable.
Anti-fatigue technology.
Ultimate durability and protection.
Designed to absorb shock and return energy.
4. Best Gel Insoles: Dr. Scholl's Work Boot Insoles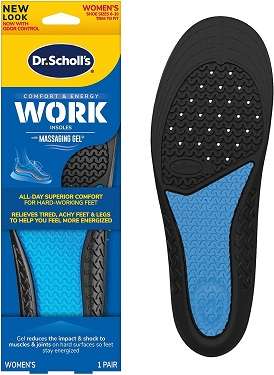 The two products of Dr. Scholl have taken place on our list. But we are sure nobody will be surprised. This brand is the most renowned insole brand offering excellent products for everyone's feet.
These Comfort and Energy Work Insoles come with working feet in mind. These include beautiful shock absorption, incredible arch support, and the tough-as-nails design you need.
Further, the Superior Comfort Insoles become compatible with any work shoe type, even if you don't need to lace up your work boots each morning.
Besides, the low price almost puts them in the budget category. But some opt for other ingredients over the gel. If you don't intend to, you don't gel with it.
Features:
Best for feet & leg muscle fatigue.
Specially designed for women with hard-working feet.
New Polygiene StayFresh Technology.
The responsive wave cushioning in the ball-of-foot area.
5. NAZAROO Orthotic Boot Insoles for Flat Feet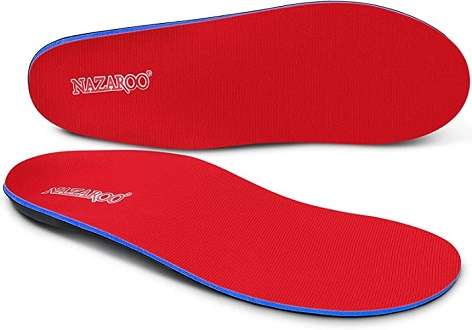 NAZAROO Orthotic Boot Insoles provide superior arch support considering its price range. These will become perfect for you if you contain flat feet or require insoles for your work boots.
The superior arch support is the prim strength of NAZAROO insoles, coming from multi-feature working together. Also, these have the latest breathable fabric to keep the feet comfortable.
The deep-heel cradle built-in silicon delivers and reduces foot stress apart from absorbing shock effectively. Besides, you'll get a layer of super-dense foam to contour your foot arch for reinforcement, which is supportive yet comfortable.
Features:
Suitable for flat feet.
Multi-layer cushion.
Fit for most footwear.
100% money-back guarantee.
6. Samurai Boot Insoles for Plantar Fasciitis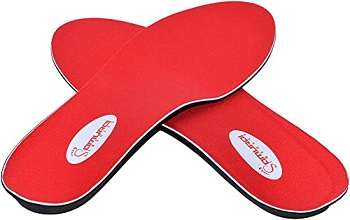 Samurai has designed these insoles to relieve plantar fasciitis. We suggest using these inserts for those who have experience foot inflammation and foot joint pain.
Samurai has brought these insoles to the market using a layer of polypropylene encompassed by a padded shell. Also, these are entirely capable of absorbing shock at almost every step.
These insoles aid in realigning the joints of the feet. Indeed, they help realign and cushion these areas tremendously with symptoms.
Samurai insoles are lightweight but highly effective orthotic insoles to provide the support and comfort you've been losing.
Features:
Slim and lightweight to fit all footwear types.
The springy, flexible inner core bounces.
Helpful for those having plantar fasciitis.
Made in the USA.
7. Superfeet Copper Cushioning Memory Foam Boot Insoles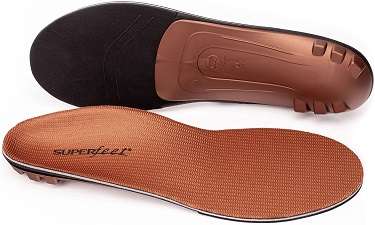 The most versatile insoles on the list are Superfeet Copper Cushioning Memory Foam Boot Insole. The blend of a deep heel with a memory foam layer assists them to adjust to your feet.
Superfeet Copper assembles the latest insole technology with comfortable yet durable materials.
These want a lot of room in your boot, excellent for cushioning. But the memory foam effortlessly adapts to your foot contours, so it doesn't shrink. This versatility turns it into a simple transfer from a workshop or construction site directly to a boardroom.
The stabilizer cap is made for those having low arches, yet the memory foam layers in the middle let this insole conform to any foot build literally.
Features:
Accommodating heel cup.
Low arch support insoles.
Durable orthotic shoe insoles.
Odor control.
Benefits of Changing The Best Boot Insoles
There are several reasons to replace your boot insoles in terms of picking the right insoles for you. Indeed, changing boot insoles is not a luxury but an investment in your future well-being.
Preventing further damage
Considering your insole uses, replacing them every 3-6 months might be essential. The reason is that insoles can break down with daily use over time. Indeed, these damages of insoles can lead to blisters, improper posture, and so on.
So changing the insoles is better at regular intervals for preventing your health issues.
Resisting foul odors and bacteria
During the day, our feet tend to sweat, although you clean your insoles daily. Nevertheless, bacteria may conceal in small cracks and crevices, leading the insoles to retain moisture and start to break down and smell. No one intends to move around all day with lingering foot odor.
Avoiding health issues
Many users buy insoles to resist further health problems caused by improper posture, foot pain, and painful joints. While insoles may aid in these issues, allowing them to outlast their lifespan can worsen them.
Key Things to Consider While Purchasing Best Insoles for Work Boots
Insole Types
Comfort Insoles: Standard insoles for an extra cushion are the comfort insoles. These are available at the drugstore.
Molded insoles: Manufacturers construct these insoles to specific standards for qualities and features, such as a flat arch or heel spur.
Orthotic insoles: Orthotic insoles come like molded insoles. But they remain custom-made for individual users.
Materials
Considering the brand and design, the best boot insoles are available in various materials. They are:
Gel: Many consider it the best for shock absorption. Indeed, the most frequently purchased insoles by users are gel insoles.
Foam: If wearers wish to feel cushion and support in the insoles, foam insoles are the best for them. Memory foam is specifically suitable enough to mold to the contours of your feet.
Plastics and Synthetics: These are made for different specific needs. For instance, the EASYFEET insoles made of plastic come to ensure flexibility.
Size
Verify whether the insoles you choose are one-size-fits-all or can be cut to size. Most insoles come in a way that users can customize them for a unique fit.
Since thickness is of the size category, remember that thick doesn't always refer to better. Choosing thin insoles is better when wearing thick socks in winter boots.
Comfort
While going through the best boot insoles for work boots, you should consider different things than dress boots or combat boots. Insoles can aid in solving many issues, but what can assist with your work foot problem?
Identify the issues that provide the most trouble first, such as flat feet, high arches, heel spurs, and plantar fasciitis. Different properties are required for various problems to deliver comfort and relief.
Shock Absorption
Shock-absorbing insoles contribute to reducing pressure on the soft tissues and joints of your feet and legs. It becomes crucial for work boots as they aid in preventing general workplace injuries like shin splints, tendon problems, fractures, and general discomfort. The quality shock absorbers also transfer the energy from the shock back to your feet.
Arch support
Extra arch support insoles can aid in absorbing shock in your middle foot. It can support to prevent plantar fasciitis from developing or coming back if you have it.
FAQ
Q: Should I size up or down my work boot insoles?
Generally, we don't recommend you require to size up while utilizing insoles in your work boots. You should never shorten the size. Indeed, it is a way for the mishap.
Q: What are the Best Insole Types for Work Boots?
Many say buying custom-made insoles for work boots is better, but we have a different opinion. While the price tag for custom-made insoles might remain somewhat obscene, most people of average height and weight can stay well with regular insoles.
If someone has specific issues with their feet, like a severely arched or flat foot, they might require custom-made orthotics. Also, people suffering from terrible foot odor might pick particular antimicrobial ingredients. Otherwise, using most work boot insoles found online or in stores might be possible.
Q: Should I Place insoles on my work boots?
Sure, even if you shop for the best work boots in the world, your feet can still hurt. Indeed, insoles contribute to combating the problems created by standing and working for long hours. These are specially crafted to turn your feet feel better when stuck in those heavy work boots.
Final verdict: Best Boot Insoles
We think it is too conspicuous so far that the best boot insoles seem to be the ultimate wingmen for your boots. We have compiled a list of the best footwear insoles so that you can choose one for your needs.