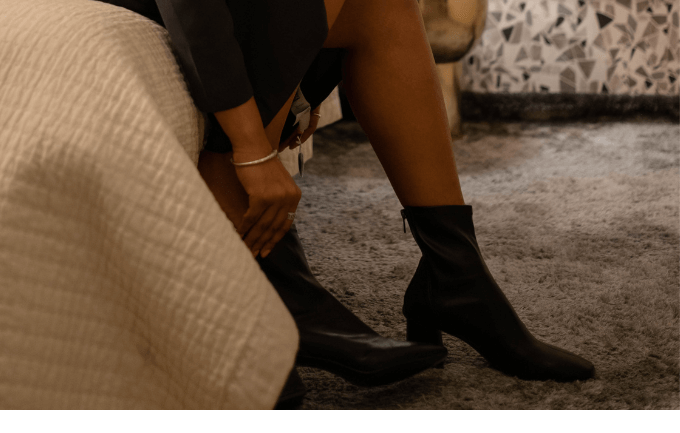 How to Wear Boots!
Boots are now at the top of the list of wearing footwear for men. These types of shoes are not only stylish and comfortable but also multi-functional and protective.
A pair of boots will help you finish your work with comfort and safety. Many combine them with semi-formal attire and smart casuals that make them valuable clothing addition.
Needless to say that all types of boots are not compatible for all occasions. Therefore, it is necessary, to make yourself familiar with the different types and supreme ways to style them.
Anyway, we are mentioning here how to wear boots for a smooth and elegant look with safety.
How to Wear Ankle Boots
One of the most multipurpose types of boots around is ankle boots. It is easy enough to wear these boots that reach to or just above the ankle.
These boots become suitable for a range of outfits with casual and smart-casual appearances.
The first thing to rock your ankle boots is to choose your style. Maybe, a smooth and easy option is Chelsea ankle boots.
But, Chukka Boots and other lace-up styles might also become pompous.
After choosing the boot, you match it with jeans or trousers and a button-up shirt or sweater.

How to Wear Work Boots
Nowadays, people wear these tough and practical boots not only for construction sites but so for casual outfits.
Usually designed in light brown, these shoes offer excellent performance and are outstandingly fashionable.
They suit best with jeans because of their comfortable look.
A pair of blue jeans with a t-shirt and brown work boots always look lovely.

How to Wear Combat Boots
These types of boots seem to be heavy for all. Even then, why not keep combat boots for clothing in your collection?
That is right, these classic boots made to be worn by soldiers instantly seem to be a rugged touch to any outfit.
Suitable for casual wear and weekends, combat boots appear the best when combined with other advanced designs.
You stick to a darker color palette and choose heavy-duty fabrics like denim and leather to make you look.

How to Wear Timberland Boots
Although we see many boot brands for men around us, one of the best among them is Timberland, without any doubt.
Perfect for fashionable gents, this renowned label designs high-quality and stylish shoes.
Yes, Timberland boots look excellent with casual outfits. But, you can wear them for a smart-casual appearance.
To do so, go with a simple blazer and dark jeans with a pair of boots. To display your shoes, be sure to roll up your pants or cuff.

How to Wear Lace-Up Boots
If you want a cozy fit and lively look, you cannot utilize a pair of conventional lace-up boots.
Regardless of wearing black or brown, leather or suede, these gorgeous boots appear lovely with several outfits.
Applauds to their thin, ankle-embracing look, the lace-up boots appear to be gorgeous with sophisticated styles.
Try to match with sweaters for slim-leg trousers, oxford shirts, and Dapper clothing.

How to Wear Biker Boots
Biker boots can become a fantastic addition to your outfit whether you have a motorcycle or not.
Usually, a low-heel and buckle-featured biker boot looks solid and sharp.
Attempt to wear a pair with dark skinny jeans and a neutral t-shirt for a suitable biker boot outfit.
After that, fulfill your biker appearance, including a black leather jacket.
It can become a striking outfit for a weekend.

How to Wear Chelsea Boots
Chelsea boots look sleek and minimal. You can wear them for both casual and formal attire.
If you want to wear Chelsea boots casually, choose a pair of brown or suede.
Then, make a complete look with jeans, a t-shirt or roll-neck sweater, and a jacket.
Alternatively, pick a pair of black or burgundy leather Chelsea boots for the handsome style and wear them with a suit.

How the boots should suit
Choose a boot that suits the feet to confirm your comfort while wearing. While walking, your feet should have a snug feel and should be supported.
In general, you should have the ability to move your feet and ankles without any problems or pain.
Make sure you fit a toe behind your heel to confirm that the boots are not too small. Also, your toes do not get pressed against the edge.
How to Clean Your Boots
Typically, one of the most durable types of footwear is boots. Nevertheless, they often become dirty.
So, you need to know how to clean the boots.
First, begin by drenching the laces in hot water blended with laundry detergent to clean leather boots.
Next, utilize a dampish cloth to obliterate any loose dust from the boots.
Afterward, take drowned a scrubbing brush in the water and carefully cleanse stains.
Now, obliterate the boots with a clean dampish cloth and take aside the laces from the bowl.
Finally, put both the boots and laces to desiccate naturally.
How to Clean Suede Boots
For cleaning suede boots, take off the laces and keep drenched a tender bristle brush in a small amount of suede cleaner.
Next, brush in a small circle on the outside of the boot, supporting the inside of the boot.
When one is complete, use the same method for another and let them desiccate for 24 hours.
When dried, utilize a suede brush with mink oil to make the boots soften again.
How to Store Your Boots
To make your boots last longer, be sure to store them properly.
Never forget to stuff them with paper or shoe wood after cleaning and letting them dry.
It supports the shoe to retain its shape when not in use.
Always keep your boots straight for the highest results.
Best Boot Brands for Men
You have to reckon several things while picking a pair of boots.
Your new shoes require to be eye-catching and fit, comfortable, and durable.
For example, purchasing from a renowned brand that successively supplies better products is a good decision.
Reliable labels like Grenson, Timberland, Clarks, and Church make some of the best boots for men and will never disappoint you.
How to Wear Boots
Pick the correct style of boots to fit your intended appearance.
Use a pair of comfortable boots for a casual look, such as work shoes with jeans and a t-shirt.
To make attractive outfits, prefer sophisticated boots such as Chelsea boots and combine them with trousers, a button-up shirt, and a blazer.
To make a tough and rugged look with boots, choose a biker or combat boot and associate them with a leather jacket and dark jeans.
Make sure to keep your boots clean so as not to be random or dirty.
FAQs
Q: Why should men use boots?
Boots are one of the superior options for men.
These are effective, comfy, as well as pompous, and versatile.
You will find them in casual styles, including according to different occasions.
Q: What can I use with black boots' men?
Due to versatility, black boots get a superb choice.
Take a pair of black Chelsea boots and try them with your suit, making a corporate look.
Q: Which color boots match everything?
Choose black or dark brown for one-boot-fit-all pair.
Anyway, this option will rely on how your outfit is already.
You opt for a pair of black boots if you wear black, white, grey, and neutrals.
On the contrary, you go for a pair of brown boots for lighter shades and colors.