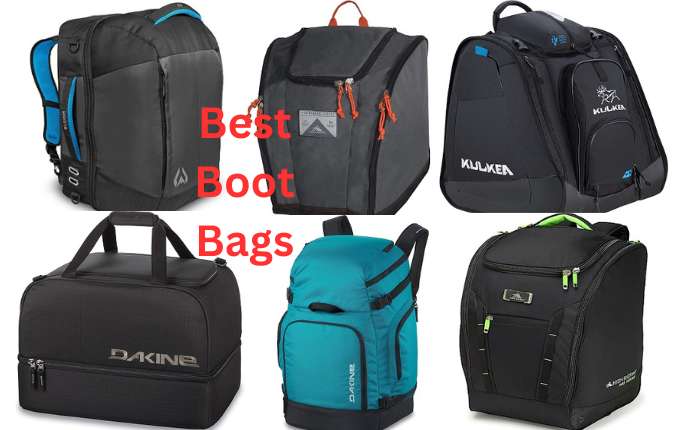 The best boot bags for Ski become an indispensable part of skiing equipment because they give protection and storage for the boots while traveling. For this, having a customized, durable, compact ski boot bag is crucial to carry to your skiing location.
We have done a lot of research to find the best boot bags so that we can present them to you. So keep reading the following reviews to find the best one.
Top 7 Best Boot Bags and Backpacks for Ski
1. Athalon Everything Boot Bag/Backpack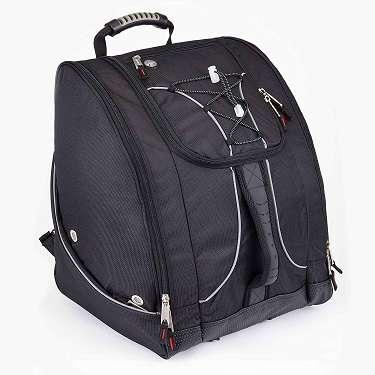 The Athalon Everything Boot Bag consists of high-density polyester and features waterproofing, so it becomes too durable. It gets filled with external and internal storage pockets and compartments. Also, it comes at a reasonable price.
Although budget-friendly, this bag seems durable, like the most expensive models. Praise for its sturdy zippers, weather-resistant polyester construction, and ventilated side pockets.
Concealed back straps allow you to convert the carrying bag into a backpack. Besides, Athalon adds four padded lumbar pads to the bag-back for comfortable carrying.
The organizational side of this bag also remains top-notch, such as ventilated side pockets and a center compartment for ski jackets or a helmet zippered. Plus, there are lots of smaller zippered pockets for accessories.
Moreover, the bottom of the bag features waterproofing and contains drainage grommets to let the snow melt.
Features:
High-density polyester and waterproof PVC bottom.
Surprising storage.
Several small internal and external pockets.
Ventilated side pockets.
2. Wildhorn Brimhall Ski Boot Bag and Snowboard Backpack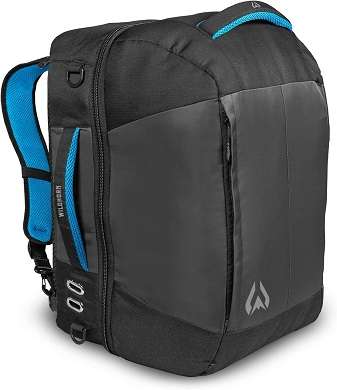 This Wildhorn Brimhall Ski Boot Bag brings ample and well-organized storage space with multiple internal pockets and compartments, so many skiers use it as the number one choice. Also, the manufacturer inserts eight separate Compartments for skiing equipment.
The center back of the bag's interior is the most crucial compartment for your ski boots. Plus, you will get plenty of other Compartments and pockets for gear, such as ski goggles and helmets.
Wildhorn incorporates ventilation and reinforced materials in this bag to ensure its stiffness and durability. Apart from the shoulder strap, it has kept three strong-grip handles on the top and sides for simple carrying.
It may seem expensive to many, but its outstanding features will surprise you. So the investment for skiers will not be a waste of money.
Features:
Durable zippers and hardware.
Adjustable shoulder strap.
Water-resistant outer shell and base.
Suitable for multi-uses.
3. Dakine Locker 69L Boot Bag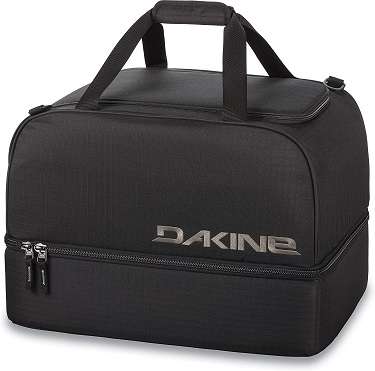 The Dakine Boot Bag becomes an excellent option, complimenting every skier and achieving our top pick for ski boot bag of the year. Also, the brand uses 100 percent polyester to make it. It is functional, durable, and looks fantastic.
This Boot Locker has a separate-level design with a different compartment to keep your boots secure and isolated. Further, the other part is suitable enough to put any extra accessories or equipment you wish to carry on your ski trip.
The bag also includes a tarp-lined bottom, keeping the entire interior dry when placed on wet ground or snow. Moreover, this section becomes double as a changing mat, which gets usable while changing in or out of the boot.
This model comes in multiple colors to adjust with your style and features easy-to-carry handles with a fully padded shoulder strap. The only negative comment is that it has no backpack-style strap.
Features:
Available in multiple colors.
Tarp-lined compartment.
Padded shoulder strap.
Changeable mat included.
4. High Sierra Boot Bag and Backpack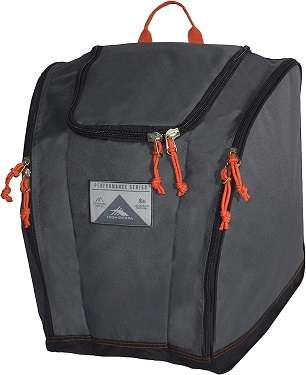 The High Sierra Boot Backpack looks captivating, including its eye-catching triangular design and various color options. Indeed, this bag itself becomes well-balanced and comfortable.
The boot pocket will effortlessly adapt to a pair of size 13s. Irrespective of the weather, the zippers get opened and closed spontaneously.
The padded backpack straps never create any pressure on the shoulder, and it remains against your back, whatever how much you move around. Moreover, the bag itself is remarkably light, although a solid-feeling bag.
It is a sturdy boot bag that will fit your boots as well as your helmet and clothes. Besides, the company inserts a convenient webbing grab handle for an added carry option. Overall, it's one of the best bags at an affordable price.
Features:
Crafted from Diamond ripstop Duralite.
Adjustable backpack straps.
Two zippered side compartments.
A wide storage compartment.
5. KULKEA Boot Trekker – Ski Boot Backpack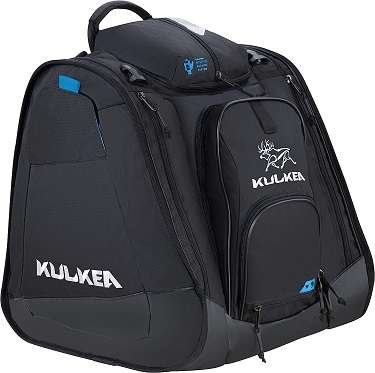 You are going into the pro-level boot bag territory with KULKEA Boot Trekker. It brings beautiful features, making it a fantastic gift for skiers.
You will find a tripartite design in this bag with separate pockets. This setup works for several purposes. First, it maintains the load balance that turns into the carry bag, especially while it's full of gear.
Secondly, it contributes to opening the bag center for storage. The central store remains several times bigger than the standard external pocket that you will see in more compact bags.
The interior space gets divided into several small compartments, allowing you to separate more fragile items. Each of these pockets contains its dedicated zippered opening.
Boot Trekker offers clips to joint your helmet to the exterior securely. Best of all, all the zippers feature high-quality, jam-proof affairs and the outer part remains highly water-resistant.
Features:
Water-resistant backed nylon and polyester bag.
A lot of compartments and pockets.
Adjustable strap-and-belt system.
Well-performance.
6. High Sierra Deluxe Trapezoid Boot Bag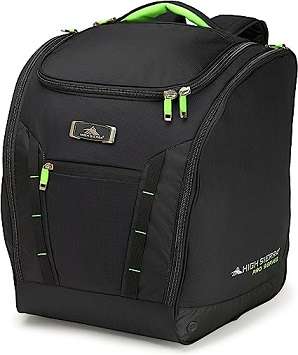 The High Sierra Boot Bag has always charmed buyers with their captivating looks but never compromises on quality and comfort. So, it has become an ideal purchase for skiing enthusiasts.
There's a large compartment on each side spacious enough to adapt size 13 and under ski boots. Plus, the main compartment remains wide to put all your skiing essentials. The High Sierra has a front pocket that can get utilized to put your small tools.
Sierra has used the ballistic 1680D nylon to build it, making it extremely tough and durable. So you can use it without doubt about its quality and ability to withstand any weather and adverse conditions.
You don't feel tired or uncomfortable while carrying it. Further, its S-shaped ergonomic shoulder straps are beautifully padded to eliminate discomfort when carrying its weight.
Features:
Extra durable construction.
Large main compartment.
Two zippered side compartments.
Zippered front accessory pocket.
7. Dakine Boot Pack DLX 75L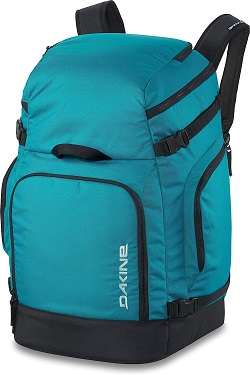 Are you looking for a very durable and versatile high-capacity ski boot bag? The Dakine Boot bag is a perfect one, so look no further.
This Dakine Boot gets crafted from recycled polyester. Indeed, it performs well for skiing and snowboarding equipment with an extraordinary capacity of 75 liters. Mentionable, it is particularly suitable for travel.
There's a tarp-lined compartment for the boot, accessed by a rear panel. It has top and side pockets, suitable enough for goggles, a helmet, and gloves, among other skiing types of equipment.
With this travel-friendly bag, you not only get a high-capacity tarp-lined boot space, but you also enjoy storage space for the remaining of your skiing equipment.
Features:
Side webbing straps.
Tarp-lined boot compartment.
Two large zippered side pockets.
Back panel accessed.
How to Choose the best boot bags for Ski
We'll show some crucial things in this section while picking the best boot bags or backpacks to fulfill your needs.
Bag design
Different styles of boot bags are available. Each serves something somewhat different. Using some duffel bag types or covering and protecting your boots is possible, but boot bags perform better due to their unique shape.
Ski boot bags with a split-level design are the most general. They characterize a bag with two separate compartments. A compartment is signified for your boot and contains properties like water-proof fabric or reinforced ingredients that can withstand wear and tear.
In the same compartment, this style is capable of storing both boots.
Another option is the side pocket boot bags. This bag type has two separate side pockets, each of which can carry one boot. Indeed, the convenience of this type is that each boot will stay separate and won't scratch or rub against each other.
Separate pockets will become excellent if your boots are wet or dirty, as they won't be capable of touching the rest of your gear.
Another handy option is internal divider-style boot bags. These types seem like conventional backpacks but contain padding inside or thicker material, keeping your boots away from your other gear.
These bag types are often inexpensive compared to similar options, yet they are not as functional as the two styles above.
Material
You are looking for a ski bag crafted from premium materials, protecting everything inside. Many bags feature reinforced or are available with particular waterproof fabric so they do not get too dirty while out in the snow or cold.
The general materials used in bag design are polyester and nylon. Indeed, both become fantastic choices as they characterize durable and stiff synthetic materials, drying quickly.
Adding additional construction layers is general for the boot area of your bag. Some might also contain waterproof and tarp-like materials underneath.
Pocket
Having pockets is always best. They help add extra storage space and let you stay organized while traveling.
Many prefer the few small exterior pockets, enabling them to put small items away from the original compartment. It lets you access small items you need on the go, such as a phone charger or headphones.
After all, bags with small pockets can separate all the small items from each other and prevent them from getting damaged by any injuries.
Size
Ski boot bags are available in various sizes. If you're searching for a bag cloaking your boots, you'll need a small boot.
Anyway, if you find something capable of carrying a lot of additional gear, you can choose a larger option. Someone opt for a mid-sized ski boot bag, carrying ample extra gear and accessories without being too bulky.
Carrying Straps
When you buy a boot bag, looking at its straps is essential. A few bags will contain regular backpack-style straps that can be cast over your shoulder. On the other hand, others may have a single shoulder strap, like a commuter or duffel bag.
A lot of bags bring multi-carrying strap options that we recommend them.
Additional Features
There are properties you might require or want from your ski boot bag. It incorporates things such as drainage or ventilation considerations. Such features aid your boots in breathing.
Additionally, as they can be covered in snow, drainage will let meltwater escape instead of being buried inside your bag.
A few boot bags contain locks, allowing you to put your belongings securely and safely, and a few have changing mats. It's a small element you may stand on when you change in or out of your boots so your socks don't become wet or dirty.
FAQ: Best Boot Bags
Q: How large should the best boot bags for Ski be?
In terms of picking a boot bag, ensure to match the size of the bag to your ski boot sizes and other gear you plan to pack. Choose a boot bag with larger dimensions and higher capacity for skiers with large boots or lots of gear.
50 liters or more is an ideal size we have found. For regular flyers, don't forget to cross-check an airline's size limits for carry-on bags if you carry your ski boot bag on the plane.
Q: What luggage do the best boot bags carry?
Ski boot bags might become a fantastic piece of carry-on luggage, but only if they adjust with the airline's dimensional requirements.
Some airlines will even let you check in your ski bag and include your boot bag at no additional charge, so confirm your check-in specifically for your journey.
Q: What is the best approach to cleaning a ski boot bag?
If you don't find cleaning instructions on the ski boot bag tag, you can find them on the website. Generally, you should hang your gear out to dry after a day of skiing.
Final Verdict: Best Boot Bags
If you often go on ski trips, you ensure your equipment gets well protected. The boot bags and backpacks for Ski you look at in this article get made to conduct that task, and each model has been listed for different reasons.