You may have seen movies where actors pull knives out of their boots and fight. Indeed, having the best boot knife provides adequate protection and utility during movement.
Some who carry a boot knife consider it a weapon of last resort, while others prefer to keep it handy for any emergency. A boot knife features small, narrow, and often thin compared to a standard fixed blade.
Although the name implies that it is to wear inside or around the boot, it is somewhat misleading. It's made for privacy. Therefore, like on your belt or even around your neck, you may wear it wherever you see it.
If you've piqued your interest and wish to know about the best boot knives, we've compiled them here. So keep reading to find the best one for yourself.
Top 7 Best Boot Knives
1. Kershaw Secret Agent Boot Knife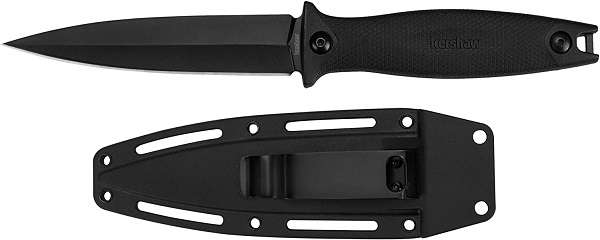 If you are tactically minded, you will find a smooth and discreet boot knife here. It contains a sleek, narrow blade crafted from non-reflective black 8Cr13MoV stainless steel.
Kershaw Secret Agent has just a single edge that ensures somewhat safe use by the wielder. It adapts comfortably to the hand and boot with a 4.4-inch blade and a 4.3-inch handle.
This boot knife includes a sheath that is hard-molded and dual-carrying. It also brings a clip for use on your belt or boots, including slots on both the right and left edges for ankle straps. Further, its blade is locked too firmly.
You can run around with the confidence that it won't slide as it's firmly attached.
Features:
8Cr13MoV stainless steel blade with high carbon.
Attractive blade coating.
Durable handle.
High-performance steel.
2. SOG Instinct Boot Knife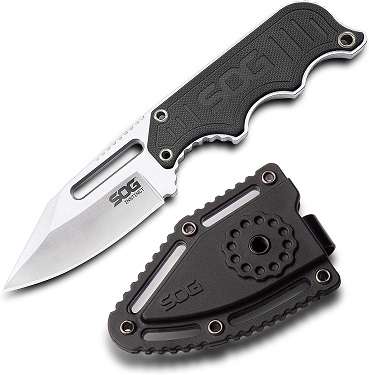 Perhaps, one of the best small-size boot knives on this list is the SOG Instinct Boot Knife. Its overall length is less than six inches, short enough to put on comfortably as a boot knife but still sufficiently tall for practical use.
This small boot knife will adapt comfortably to the palm of your hand. Also, the textured G10 handle with finger grooves will confirm a better cut. It has the gimping on the back and forefinger grooves that let you control the blade.
The Instinct incorporates a fantastic and hard-molded sheath. The rotating spring clip is an excellent feature that lets you accommodate how it attaches to your boots, belt, or whatever and provides plenty of flexibility in how you carry it.
Features:
Light and a small knife with a sheath.
Full tang fixed blade.
Textured G10 handle.
Built to be durable.
3. Reapr 11002 Tac Boot Knife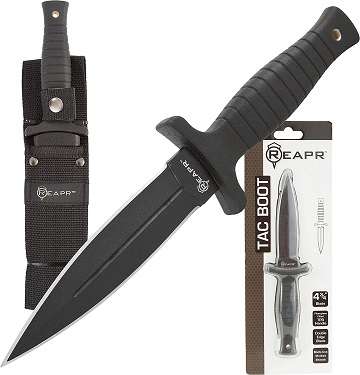 The perfect self-defense knife is the Fixed-blade tactical boot knife. So, utilize it when hunting, camping, as a combat knife, or packing in survival gear.
This 4.75-inch stainless steel knife is double-edged, including a black-oxide finish to clean and rust resistance effortlessly. Also, it has a 4.25-inch rugged hi-grip fiberglass-filled TPR handle for non-slip comfort and control.
The Tac Boot Knife incorporates a durable ballistic nylon web sheath, including an acrylonitrile butadiene styrene (ABS) injection molded plastic insert to lock it in place.
The overall unanimousness is that the sheath remains less than ideal for actual boot wear. Nevertheless, it becomes a fantastic knife for everyday carry, belts, or packs.
Features:
The Ultimate Survival Knife.
TPR handle for non-slip comfort and control.
Sharp out of the package.
A tactical knife for any situation.
4. CRKT Shrill Fixed Blade Boot Knife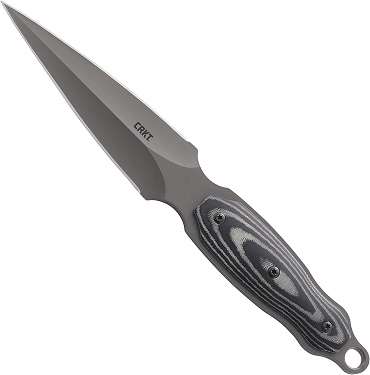 The CRKT Shrill Fixed Blade Boot Knife can keep you and others secure. It appears to puncture anything in sight with a 4.8″ dual-edged design.
This boot knife contains a versatile dual-edged design with a lightweight 4.8″ blade. If you put it in your boot, you can't feel its appearance. But it exposes its appearance when it works.
The company has designed the solid resin-infused fiber handle to work under all conditions. Also, this Fixed Blade Knife offers a full-grained leather sheath with a clip to attach to your boot or belt.
The blade features are beautiful and may be worth the money if helpful.
Features:
Classic blade shape to prove utility.
High-quality, durable, and visual.
Full tang polished resin-infused handle.
Valuable for the money.
5. Cold Steel FGX Boot Knife

The Cold Steel FGX Boot Knife is crafted from the latest fiberglass-reinforced plastic. It stabilizes heat and makes it durable.
The handle comes from deeply checkered Kray-Ex, molded outright to the blade tangs. Further, it provides a slightly hard-feeling textured surface, giving you an ultimate and safe grip irrespective of the weather.
This FGX knife is not affected by moisture, so it never rusts, warps, cracks, or splits in any environment. Moreover, it is light enough to tuck, tie, or tape anywhere.
As it is unimpacted by all but the most acute heat and cold, it can be an automatic choice for hidden storage inside and outside at home.
Features:
Unaffected by moisture.
Kraton handle.
Overall length 9.38-inch.
Better performance considering the price.
Benefits Of the Best Boot Knife
Self-defense
Self-defense is a conspicuous benefit of keeping a knife around in your boots. In case of any emergency, a knife might become the last line of safety for you.
A loaded gun (authorized by law) does not guarantee your safety. The same applies to a boot knife. But keeping both turns the knife much simple. In terms of being unable to use a gun, you can carry a boot knife.
Survival situation
You can effortlessly carry boot knives without fatigue due to their small size and lightweight nature. It is helpful, especially when you travel in the jungle or mountains. You can utilize it to chop wood for a fire, cut a rope, or any other precarious situation you may not be ready for.
Hunting
When you go hunting, carrying a heavy blade might not be possible due to enough room. In this case, boot knives can be convenient to carry without adding significant weight to your already-bulky backpack.
Further, these knives are too versatile, and several do well the job like the general hunting knives during skinning and field dressing.
Types of the Best boot knives
Dagger style fixed-blade
Most boot knives have utilized this style as it allows maneuverability and makes its highest how you can use it. These usually feature spear-tipped, double-edged, and contain a handle you can find your entire hand in all directions.
Neck knife
A neck knife is a knife worn on a cord hanging from a man's neck. Some boot knives contain the same hidden advantages as neck knives.
These usually feature very small and appear in a hole under the handle for a chain or lanyard. Unlike boot knives, they often remain single-edged and are no more than four inches long.
Compact style
A fantastic instance of this type of boot knife is the SOG Instinct: a short blade and a short handle which fits comfortably cupped downward in the hand or with the palm cupped around the end.
These knife types often contain a stiff but light handle coating or no handle coating to reduce bulk and weight.
What to Look For in the Best Boot Knives
Legality
You think first whether carrying a boot knife in public in your state is legal. Some countries adopt boot knives as self-defense tools and let you keep them in public. Others do not allow you such freedom. Even those that do, fix set limits on blade length.
In some countries, double-edged boot knives fall into the category of daggers, so carrying them with you is illegal. You should check the local laws for legal size limits so you don't fall into problems later.
Weight
A knife's weight and demeanor are inversely proportional. The heavier the weight, the less control you'll have over your knife.
The weight of a knife relies a lot on its size. A bulky knife may lead to fatigue and may not stay within legal limits. In addition to the size, it depends on the type of components used too. In general, the bass tends to be lighter.
Going with a smaller and lighter knife is best if you want to utilize your boot knife as a secondary tactical weapon or don't use it much.
Overall size
Your boot knife's aim needs to be little enough to fit with your boots and be hideable. Depending on your boot size, the sheath will determine the overall size of your knife.
Excess-sized knives will come out of your boot, turning them impractical to buy because it defeats the purpose of concealment. In contrast, a small knife will become hard to get out of its sheath.
Blade Size
Another crucial aspect to consider is the length of the blade. We contain three blade length categories:
Short Blades: Blades in this category are less than 3 inches. If you prioritize your privacy, this category is excellent for you. These adapt to your boot snugly without exposing their sign, confirming minimal visibility.
Medium Blades: Blades in this category are 3 to 4 inches long. While still delivering privacy with minimal effort, these remain large enough to reap things more perfectly.
Large Blades: We are talking about blades over a 4-inch length here. Visibly, it is tough to hide them.
However, in contrast, a larger blade will give you more control and aid you in getting into the limb.
Blade Material
Manufacturers do not make all blades equally. The bass used in producing determines their edge retention, hardness, and corrosion resistance. It's where some makers have a prone to reduce costs.
From our experience, you can go for 420HC, 154CM, 1050, and CrMoV.
Blade Design
Two widely used blade designs are the clip-point and drop-point. We consider using clip-point blades where precision and detail work is essential. In contrast, the drop-point provides more durability and endures all the abuse you cast at it.
The spear-point blade is another popular design available on many boot knives. It contains a symmetrical pointed blade design and usually has a double edge. Some states consider it a dagger, so don't forget to check local laws before purchasing it.
Another excellent blade design is the sheep-foot blade. We use this blade design for cutting. It includes a sharp bottom with a smooth finish on the top, making you less prone to pierce yourself.
Handle
As most boot knives get pressed into the smallest size possible, it becomes crucial to find one that is comfortable enough to grip with a short handle.
Typically, a handle made of titanium or G-10 steel is the perfect choice among boot knives by users. These prevent rust and other foreign elements that make them very durable, but they are weighty compared to their counterparts.
Other fantastic options are Rubber and Micarta, providing a solid grip. But, rubber handles can rust over time, and their durability is lesser.
FAQs
Q: Is a boot knife illegal?
Owning a boot knife is not illegal, but your state may control it in other ways. For instance, some countries forbid hiding a knife and/or keeping a knife with a blade longer than a specific length. So, review your state laws before carrying it.
Q: How can I wear the boot knives?
It depends on the design, but typically, you can protect the sheath to your boot or around your ankle using a clip or strap. While planning to carry it, you are careful that it does not scour your skin and that the blade remains protected.
Q: Should I shop for a single- or double-edge boot knife?
It relies on how to use your boot knife. Both edges function well for EDC, but a double end works better for self-defense as you don't need to maintain track of the business end. But, a single edge can contribute to stabbing and slashing effectively.
Bottom Line: Best Boot Knife
We've adequately covered the best one available in every price category. They all bring their own USP and varying features. But, they are the same considering the quality they offer for their respective prices.
Anyway, ensure which of these best boot knives is correct for you.