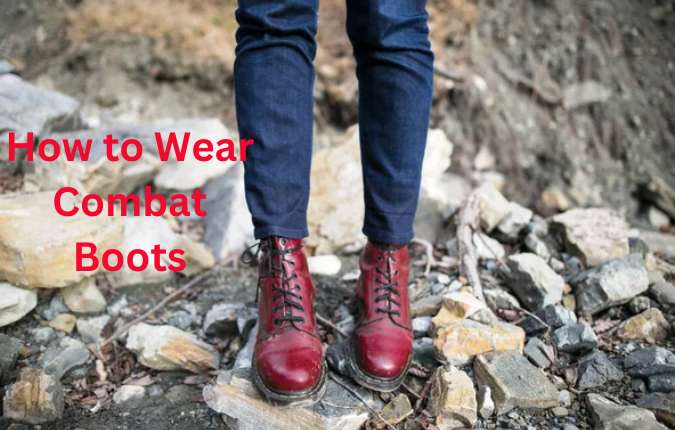 No, they are not suitable just for the '90s anymore—combat boots have returned gloriously, and they have become super simple to style into fun and fashionable outfits. So, in this article, we are about to talk about how to wear combat boots beautifully.
These boots become rugged enough to make an attractive contrast with fancy outfits, work with casual dresses, and deliver a little touch of visual interest. You may effortlessly utilize these boots to give your look an update and look stylish, classy, and unique.
15 Ways Of How to Wear Combat Boots
Now, we are showing 15 ways to wear combat boots. Therefore, keep reading and use those ways to make a decent appearance.
1. Pick a feminine dress for a sophisticated look
Both long and short outfits function well with combat boots. For a simple yet classy dress, combine combat boots with short and structured dresses in a deep color or bold print. If you expect a more carefree appearance, choose a long and flowy outfit, falling just above the boot top, with a small print, such as florals or mini polka dots.
If you are to wear a short dress to work or school, ensure it's the proper length so you don't infringe on the dress code.
A colorful outfit might be the centerpiece of your dress, so pick black or gray combat boots so they can't steal the show.
A knee-length bohemian-style dress with black or brown boots and a little crop jacket can contradict an ethereal look with the edginess of the boot.
2. Combine a beautiful blouse with a pair of short boots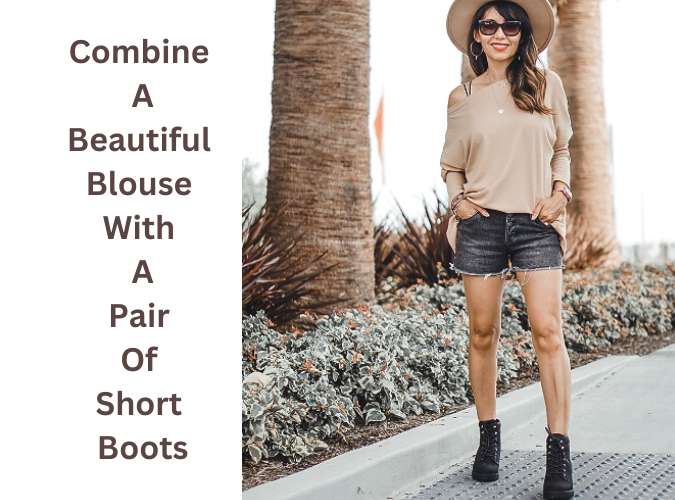 A soft blouse will create a contrast with stiff boots. Opt for a flowy blouse in a light color like pale yellow, white, or pastel pink. Also, choose a shirt with feminine details like lace, frills, or ruffles. Try to tuck the top into a professional-looking skirt or cropped pants and slip on chunky boots to display some ankle.
For a chic look, you can keep part of the shirt unbuttoned to deliver a high-fashion vibe.
To maintain the soft and feminine vibe of a blouse, go for a pair of warm brown combat boots if you don't look for contrast.
3. Put on a skirt with your boots for a feminine look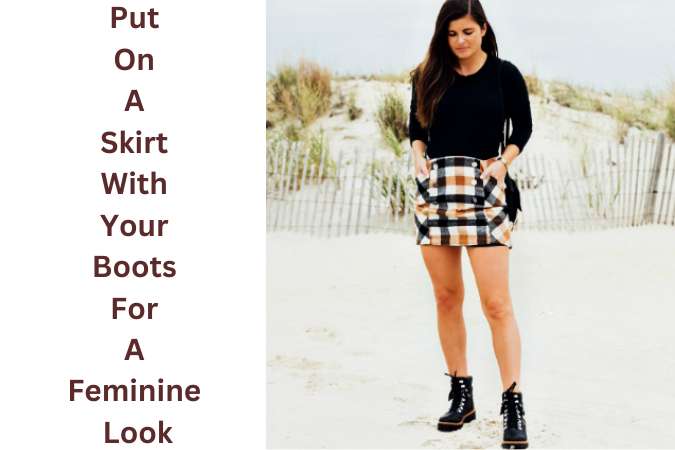 Let go of the romantic 90s vibes. Try with a gray, black, and tan pencil skirt, hitting just above the knee to look the dress balanced and professional. If you wear a more structured top, pick a loose skirt with ruffles or pleats.
Skip putting on a maxi skirt with your boots because it can hide the top of the shoe and make it look unprofessional and clumsy.
If you feel cold outside, you can wear a pair of black, opaque, or colored tights to keep your legs warm and looking chic!
To add more femininity to the appearance, find lace or boot socks or cuffs. They can milden the look of structured black boots that may otherwise look out of place.
4. Wear the cardigan with ankle-height boots for a professional look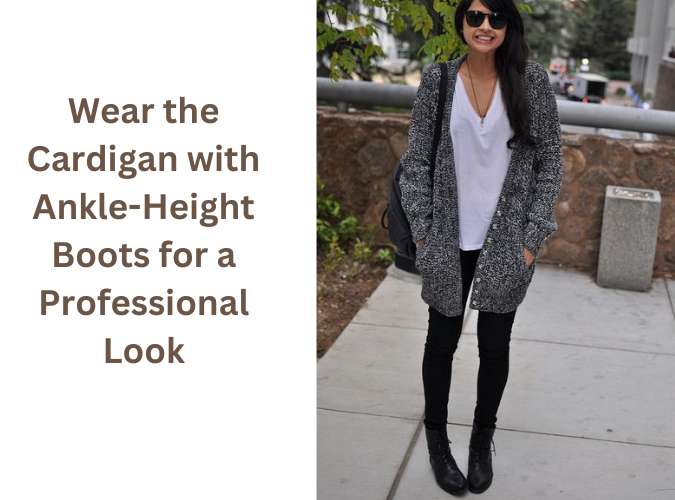 You'll stay warm. If you wear a more structured top, pair a fitting cardigan sweater over your shirt to look more sophisticated. For an ultra-feminine look, you can select a lace cardigan with a simple blouse and pencil skirt.
Cardigans contribute excellently to keeping warm as the weather cools down. You can keep one in hand for dressing up any outfit when the temperatures get cold.
5. Add cropped dress pants with short boots for an effortless, stylish outfit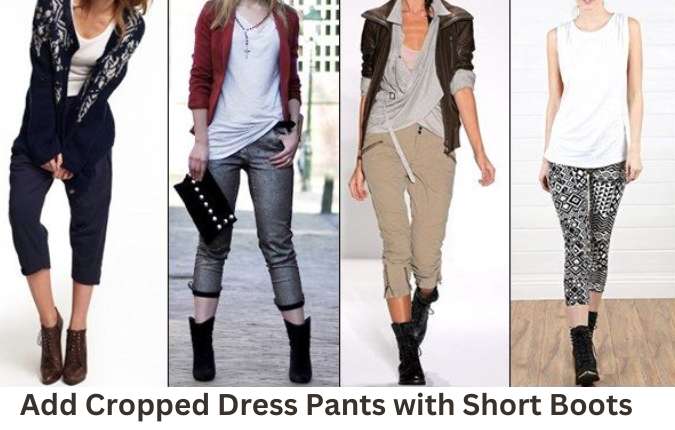 Like navy, brown, gray, or black, pick dark-colored pants. Pair skinny or slim cuts falling just above the ankle, such as cropped jeans or cigarette pants. If you have a bit longer pants, pull them up once to display some skin between the boots and the top of the pants.
Wear black skinny jeans to make a slightly dressier look when you elongate your legs.
6. Put on tights or leggings tucked into slouchy combat boots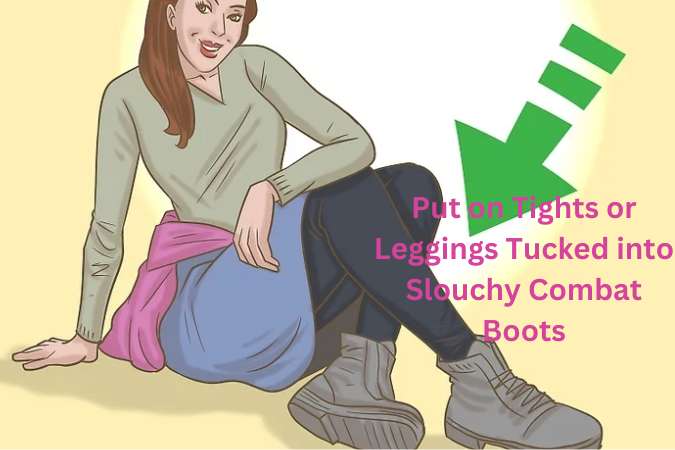 Leggings and tights will maintain balance for your chunkier boots. If the weather is cool, keep your legs warm by wearing a pair of leggings under your skirt and tucking them into boots. Black or dark brown leggings will slim your legs in reverse to chunkier boots, giving a casual feel.
For a more womanly appearance, go for tights or leggings that have a slight shine to them to attract attention to your legs and shoes!
7. Look for a pair of distressed or acid-wash skinny jeans for a '90s-inspired appearance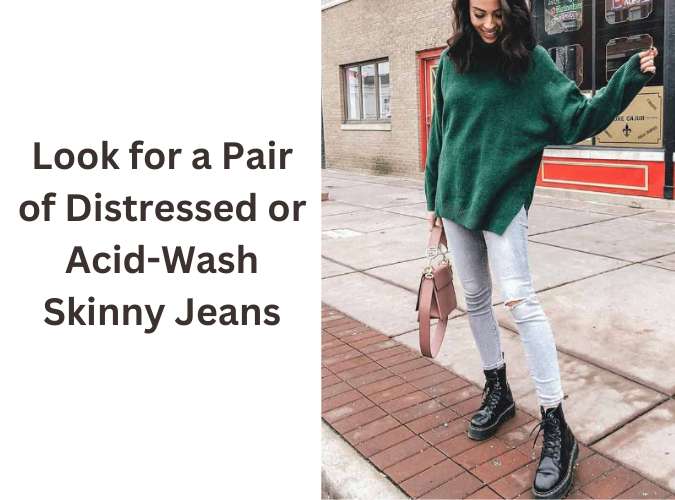 Search for a pair of light-wash jeans with holes at the knees or a frayed hem. Pick a baggier style and roll the hem 1-2 times to display the top of your boot. If you already possess a pair of regular light-wash jeans, you may scour sandpaper on the knees several times to give them a worn appearance.
If you intend to pay homage to the '90s in a further delicate way, combine boots with light-wash jeans without rips or tears.
Ride on a motorcycle, a suede jacket, or some leather with dark jeans for an edgy appearance.
8. Pick a simple t-shirt or sweater in a deep color for your top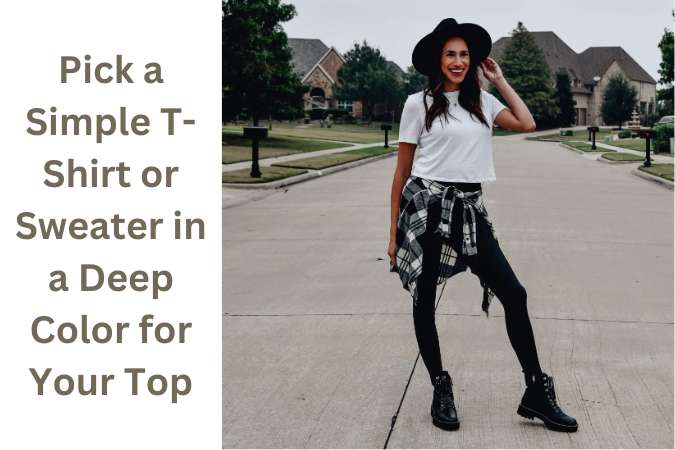 You can create a casual look using a fitted t-shirt or tank top. It is appropriate enough for a simple day around town. If you expect something a little more particular, you can use a fitted blouse, chunky sweater, or button-down shirt.
Plain colors become ideal for a simple appearance, but a deep pattern in vibrant colors may also create a fashionable statement.
9. Wear a loose plaid shirt to show off respect to the grunge era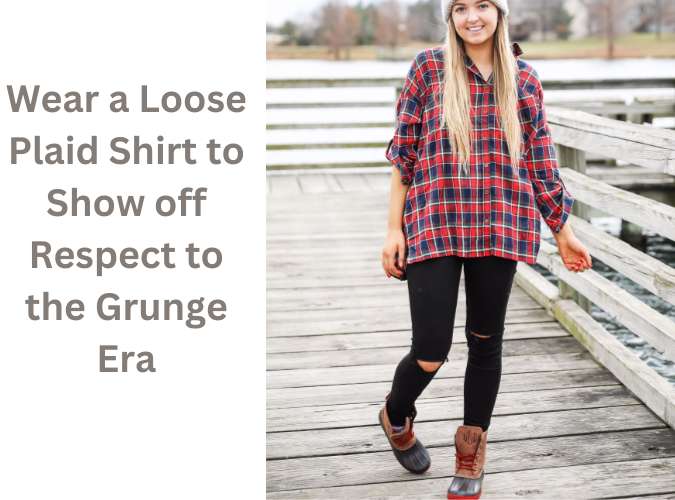 Bring out your inner grunge rocker. To pay your respects to grunge, opt for a shirt that has a slight opening at the natural waist and is partially or entirely open to reveal the bottom of your shirt. Go for the classic red-black color scheme or stick to something more modern, like yellow-black or blue-black.
If you have no intention to put on the shirt all day, wear it around your waist with the sleeves in a knot in front of your body.
10. Tying the boots loosely for a disheveled look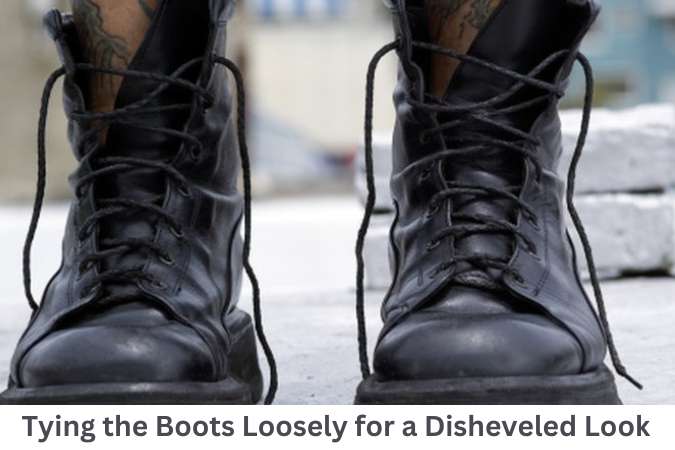 It will create a more casual look. Most conventional combat boots contain tight, heavy-duty laces going up the front of the boot. Take them off and drag the laces in different sections so they look mismatched and undone. Also, for a more casual appearance on shorter boots, you may shift the laces altogether as long as your feet are in the boot.
For tall boots, leaving the laces on and loosening them a bit is better. It makes it difficult to walk if you remove the lace entirely.
11. Put on a pair of rugged combat boots for a laid-back style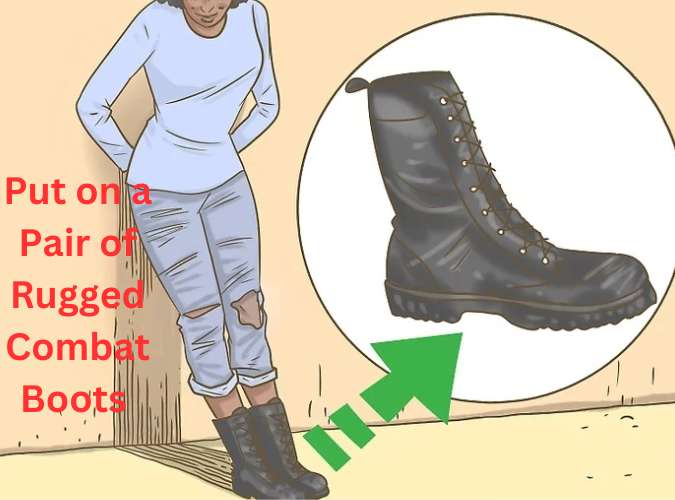 The more broken it is, the better. Opt for a pair of combat boots scuffed or polished to soften leather. These boots will become much more comfortable, but they won't contain the structured look.
12. Opt for polished, new-look boots to dress up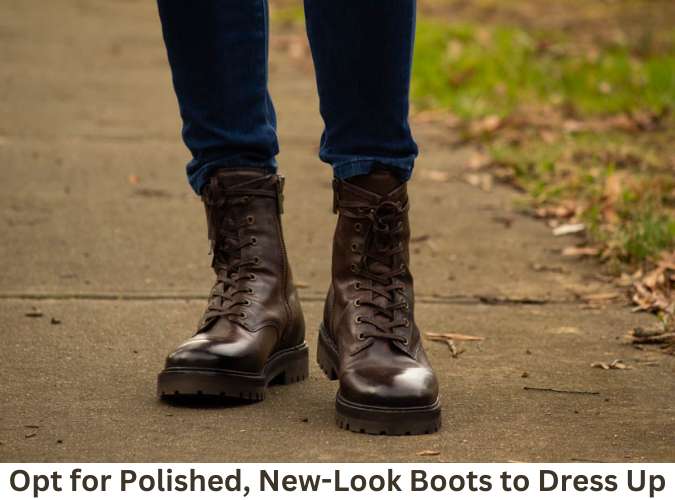 A pair of worn boots is frequently too casual to dress up. Pick new and well-constructed boots that haven't been worn too much for a cohesive look. Further, choose a classic pair in black or brown leather and ensure the material is free of blemishes or stains.
Many new combat boots are available in vegan leather, a new development in fashion. Most vintage boots come from traditional leather products.
13. Go for the colored boots to add some interest to your dress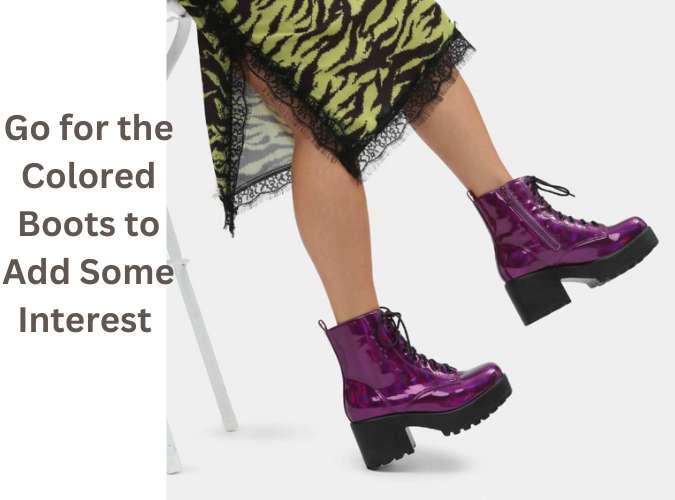 Combat boots are available in every color and even several patterns. Select bright colors like red or white, which coordinate with many outfits. Confirm that the color of the entire boot is identical without any discoloration on the toe or heel area that could be signs of wear.
Ensure you pick a color that matches what you usually wear. For instance, if you put on a lot of bright, light colors like pastels and light-wash jeans, white boots will match this color scheme perfectly.
14. Select a pair of boots with embellishments for a hint of femininity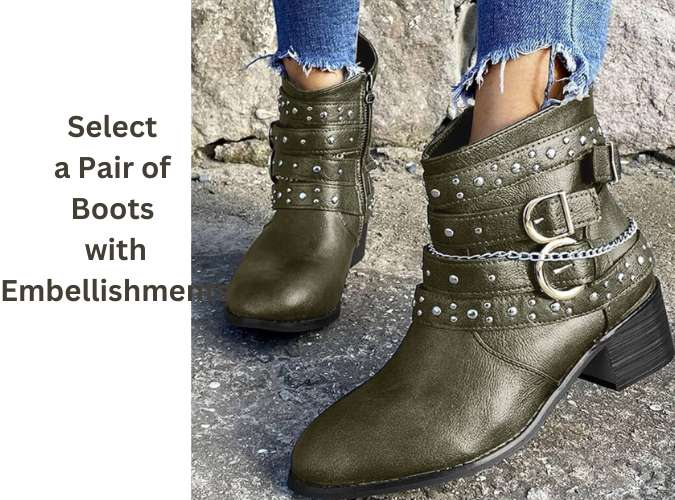 You may explore boots that have rhinestone studs, buckles, or embroidery. Select a sturdy pair and ensure the embellishments don't impact the shoe fit.
Remember, boots with lots of rhinestones and embellishments can fall off the rhinestones and embellishments of those boots quickly. So, carry the shoes with the receipt back to the store if it occurs within the store's return deadline. But the higher-end brands will frequently repair or replace boots for you.
15. Pick a boot with a chunky heel to elongate your legs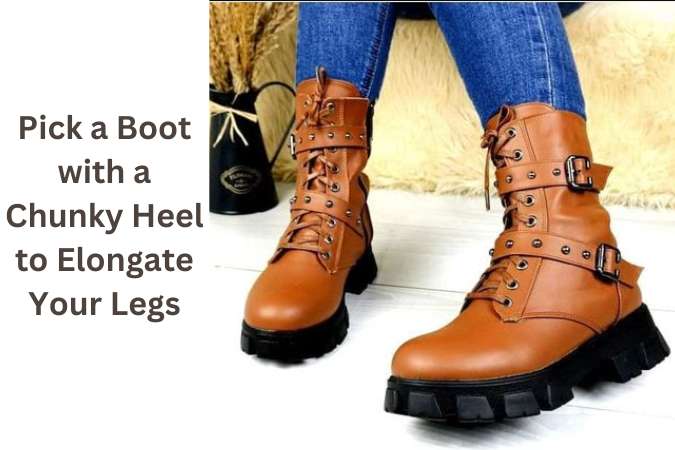 Combat boots contain a slight 1-inch (2.5 cm) heel. If you find a more feminine pair, go for boots with a 3-4-inch (7.6-10.2 cm) heel, making you look taller.
Before buying boots, ensure you can wander wearing them comfortably.
Final Words: How to Wear Combat Boots
If you have made it this far by reading my post on how to wear combat boots, you have understood combat boots have stunning features that match virtually any casual appearance.
Depending on what you pick to wear with them, these boots might look youthful, fun, or even conservative.
By reading about how to wear combat boots, you can select a quality pair that lasts for a long time. Indeed, combat boots are available in various sizes, heights, and heel types. So everyone can take a combat boot.